With so many options to choose from, it can sometimes feel like it's impossible to find the perfect engagement or wedding band.
But the truth is that when it comes to love the best tool to guide you is love at first sight, that's when the ring talks to you and you know! this is the one that will best represent your eternal love and will become part of you.
The Steampunk engagement rings collection is where you will find designs and jewelry pieces that touch the spirit of those with an appreciation for the rockabilly lifestyle. These rings will give your look a dash of the unexpected it is where old world meets contemporary flair. Perfect for the whom desires a handmade piece that stands out from the traditional modern design.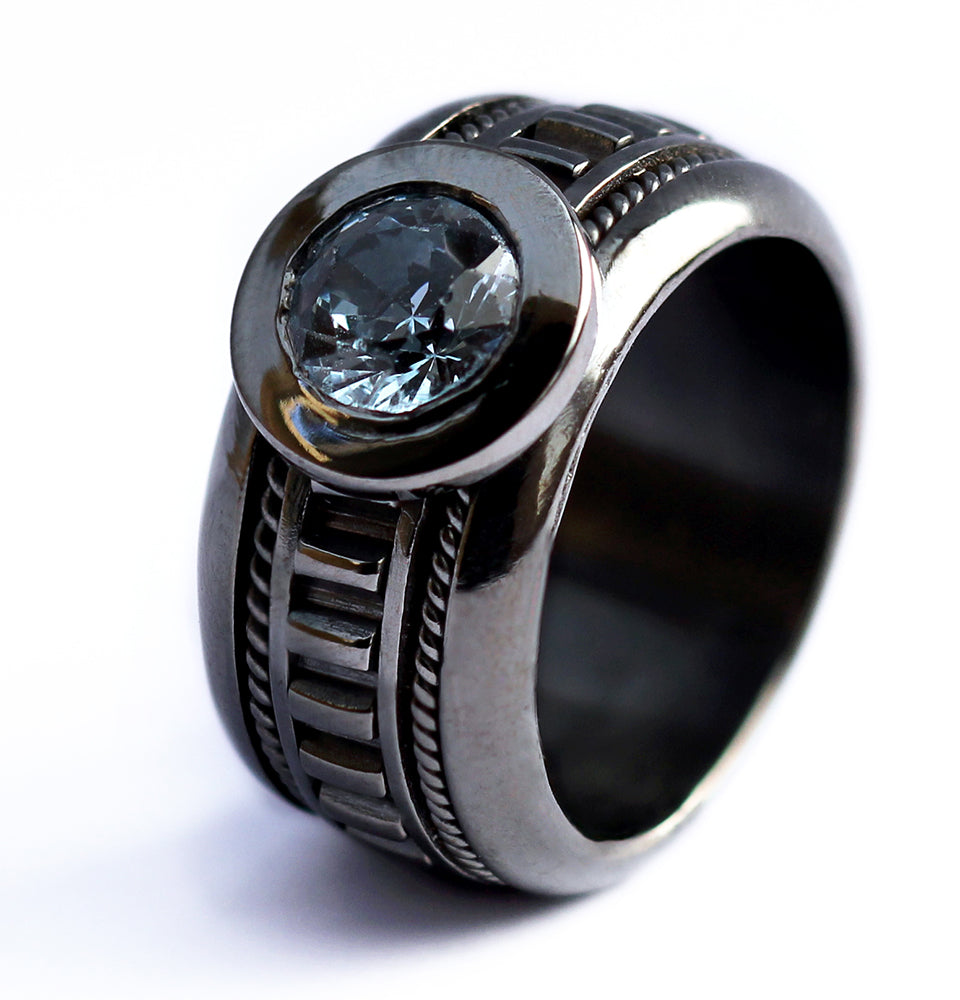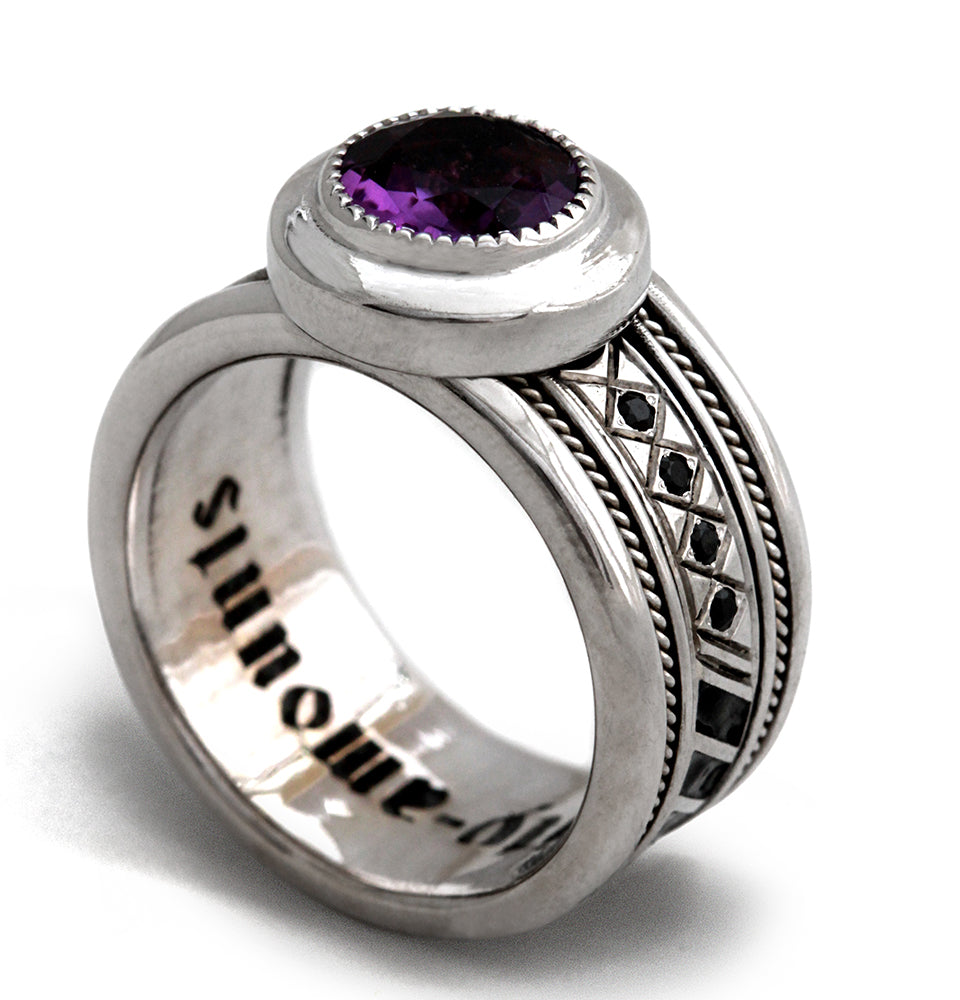 Steampunk engagement rings
Get $20 off by signing up to our newsletter
Reviews
Anonymous on
Jun 25, 2011
The ring arrived today in perfect condition. The size is spot on and it looks and feels incredible. The workmanship is flawless in design and execution. The rhodium finish is stunningly masculine. The created aquamarine appears visually flawless and sparkles with the characteristics of a diamond. The stone has been cut extremely well and high polished allowing the properly cut facets to do what they do best - create visual magic with the right amount of color saturation and incredible play of light.
n
nIf that wasn't enough to satisfy me, you out did yourself with the packaging presentation. The ring box is just as unique as the ring itself - a beautiful keepsake which appears to be from hand carved wood. It conveys a beautiful organic and personal feel.
n
nI wish you incredible success in your artistic endeavors in jewelry design. Your customer / client services approach is equally outstanding - from the initial inquiry conversation to your notification that my ring had shipped.
n
nThank you for your brilliant design and for making me feel like a very special client.
n
nAll my very best - Craig
Anonymous on
Mar 17, 2012
I love the ring and thank you for your patience, I feel really unique wearing this ring and it feels and looks exclusive!
Anonymous on
Mar 19, 2012
Thank you for this beautiful ring, which fits perfectly! nCasey
Anonymous on
Jun 15, 2013
I really love this ring - beautiful, chunky and unique. Thanks!
Anonymous on
Jun 15, 2013

annaek on
Dec 10, 2013
I love, love, love this ring. It's light and beautiful. Perfect for my aesthetic. Thank you!

dlavarias on
Dec 16, 2013
The rings are wonderful and the service is beyond amazing. Not only I got to proposed to my soon to be husband but we both love the rings that we got.Will definitely be purchasing a lot of great stuff from this store.Xoxo for having the best services and products.

PisceanWaters on
Jan 4, 2014
Beautiful piece of art <-- That's right, I said art because it's more than merely jewelry that CADIJewelry offers. My husband loves his ring & I have no doubt he'll enjoy it for years to come!

Anastasia3232 on
Feb 2, 2014
Mayuki and Eliad are so great to work with! The rings are beautiful and unique! We are so happy to have these beautiful rings for our wedding. Mayuki and Eliad answer emails quickly and ship on time!

Anastasia3232 on
Feb 2, 2014
Mayuki and Eliad are so great to work with! The rings are beautiful and unique! We are so happy to have these beautiful rings for our wedding. Mayuki and Eliad answer emails quickly and ship on time!

prestin g on
Mar 8, 2014
Love this ring! can't wait to wear it forever after my wedding.

Lydia McKeown on
Jul 13, 2014
Arrived well before stated, came with a beautiful box to keep them in. They are exactly what I wanted, so stunning and my partner loves his ring. Can't thank you enough.
I love every bit of the ring and I just love the design. For now, I wear it as a necklace, but I wear it everyday and never take it off unless I take a shower. The engraving is wonderful as well.
James Upton on
May 5, 2015
Hey,I received the ring today and I'm really happy. The ring is better than I imagined and the craftsmanship is outstanding.Thank you so much for keeping me updated throughout the hole process.I highly recommend purchasing from Cadi. Care and attention to detail along with the fantastic customer service and fast delivery to the UK .......A great Etsy seller !
Rachel Slack on
May 20, 2015
Remarkable work done by CADIJewelry. I am so impressed! These are the perfect wedding bands for my partner and I. Simple and special. Thank you for all of your amazing work! We love them!!
Fiona Mitchell on
Jul 3, 2015
Wow - this is a real eyecatcher with the amethyst stone... he's super pleased :)
Very well crafted and beautiful ring. Maya and Eliad were also most helpful in answering queries and provide lots of guidance to help you make a decision. Excellent service!
choosing a selection results in a full page refresh